Contact Us
Basically please send Dr. Tomoko Yonezawa email (yone at kansai-u.ac.jp).
Access
View Larger Map
We have public transportation systems to access our campus.
Please get off at JR Takatsuki Station or Hankyu Takatsuki-shi Station. From Hankyu Takatsuki-shi Station, it takes about 10 minutes to JR Takatsuki Station.
From JR Takatsuki Station out of the north exit at 3rd bus terminal, you can get on a bus to "Kansai University" and get off at the latest stop. It takes about 20 to 25 minutes from the station to our campus.
If you drive from your site, Ibaraki Exit in Meishin Highway is the nearest exit to access to the campus. Please take Route 171 for the direction to Kyoto for about 10 to 20 minutes, then turn left at the intersection named "Oohata-cho." When you drive climbing for about 15 minutes, you will find Kansai University Entrance on your left side close to the bus stop "Nishi-no-kuchi".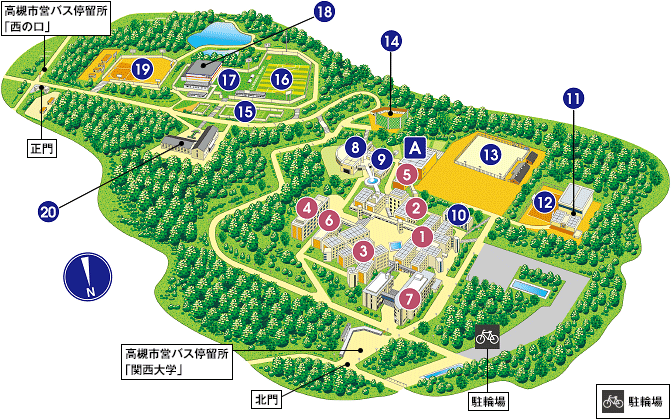 Dr. Yonezawa is in her own room TA220, A-building at 1 in the map.
For research projects, currently, we have two places in the campus.
K-building at 7 in the map, we have a room TK208 in the second floor. D-building at 4 in the map, we have a space for graduate students in the third floor.